Top Windows Apps for Freelancers
Freelancers spend a lot of time on the computer. Therefore, we decided that you need a list of top apps for freelancers. We know that you cannot do without a VPN app for windows and other programs that will help save time when working and remain calm and not waste your nerves on the development of documents. Check out the top apps we've outlined below.
TeuxDeux
Say what you like, but task schedulers, all sorts of to-do lists, are incredibly relevant these days. It isn't easy to meet a person who does not use a notebook, special forms, desktop, web, or mobile applications for planning. We believe that TeuxDeux is the best software for freelancers to keep track of tasks. This is where simplicity and minimalism are combined with convenience and functionality.
Initially, the page displays five columns, one for each working day of the week, and the SOMEDAY section for tasks whose execution time is not defined. If you need to open other dates, click on the arrows to the right or left to move along the timeline, or use the calendar to select a specific date. To move tasks between days of the week and from the SOMEDAY section and back, you can drag them to the column corresponding to the desired day. Clicking on a task will mark it as completed. If you need to edit the description, you need to drag the task into the input field. Everything is so convenient and straightforward. And last but not least, iPhone owners can download the TeuxDeux app.
RescueTime
Rescue Time is a web apps tool that sits in your computer's memory and automatically records how much and what programs you use, makes clear reports. Rescue Time is not a substitute for timing apps when you need to track activities without being tied to programs or websites. But if all you need is to know what and how much you are doing on your computer, then Rescue Time is perfect.
To get started with Rescue Time:
● Register an account;
● Download and install the application on all your devices (macOS, Windows, Linux, iOS, Android, Chrome, Firefox);
● It is desirable to download VeePN for Windows to go to many sites, and the program takes this into account.
After launching the application, you can safely work, forgetting about the application, and remember only in the evening to see how the day went. Or remember at the beginning of next week, when the last week's report arrives in the mail.
VPN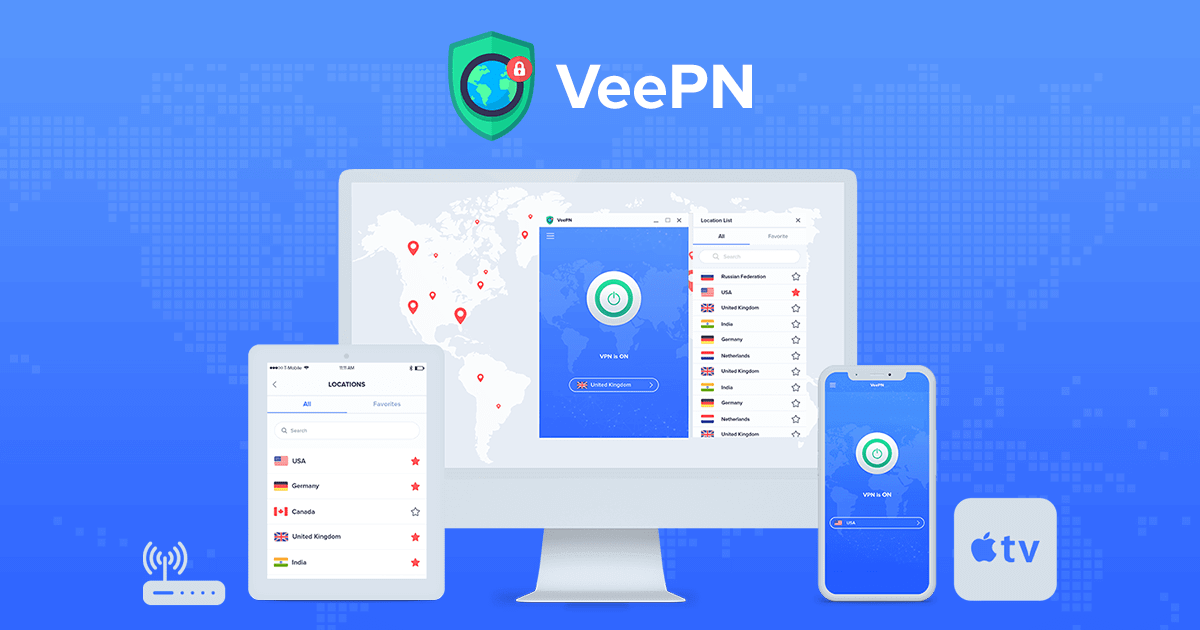 A VPN is an end-to-end connection established between two devices - usually between the VeePN server and your device. Tunneling allows traffic to be wrapped in standard TCP / IP packets and transmitted securely over the Internet. With a VPN for windows, your data is encrypted, so no hackers, government, or even ISPs can access it while connected to VPN.
Also, windows VPN software helps maintain anonymity at all times. The connection is performed using repeaters, which in turn change your position of actions on the Internet. This way, no hacker or cyber thug will be able to focus on your actions. You can download VeePN for windows absolutely free. Start a trial to try it on. A VPN provides protection when you visit sites that are full of inappropriate or unregulated content.
Focus Booster
Focus Booster is an app that helps you use the famous Pomodoro Method, which consists of 25 minutes of work and 5 minutes of rest in between. The program is quite easy to use, it displays a bar with a 25-minute counter, and when it reaches zero, you are notified to take a break.
The only available setting allows you to reduce the panel's size to take up less screen space and activate a sound every time the Pomodoro runs out. Focus Booster is a productivity improvement app that helps make completing your tasks less tedious and time-consuming. To get familiar with the benefits, you can try the free trial first. We will assure you that this program will become a great friend for the freelancer.
Toggl
Toggl is a program through which you can keep track of the time spent at work. The main advantage of the Toggl program is the ability to keep track of the time with just one keystroke. To do this, go into the program and press the button - start the timer. When finished, press the stop button. Then the timer will terminate its functions. To not specify tasks for the program yourself, you can configure them in the program, and they will automatically work at the time you need.
To successfully configure the program, you can go to the "Timer" section and see all the additional functions. Also, this section will indicate the time spent on different actions. At any time, you can follow any actions to compare the data. For example, you need to calculate how much time it takes to create an article. By looking at the past data, you can quickly answer the customer with an approximate number of hours to complete the work.
TextExpander

A set of identical sequences of symbols is a mechanical work that does not develop but only takes up precious time and quickly tires with its monotony. So why not automate this process of entering the same phrases, sentences, or pieces of code to make your work more exciting and productive. This is why TextExpander was created.
The main application window is conventionally divided into two parts. The left one displays a list of created abbreviations, and the right one displays their characteristics: the abbreviation itself and the text that will be inserted when typing it. A new snippet is created by clicking on the + button at the top of the application window. The Content block contains the text that will be inserted after entering the abbreviation. The abbreviation, this abbreviation is, and Label: The abbreviation is displayed in the program window's right part.
OpenOffice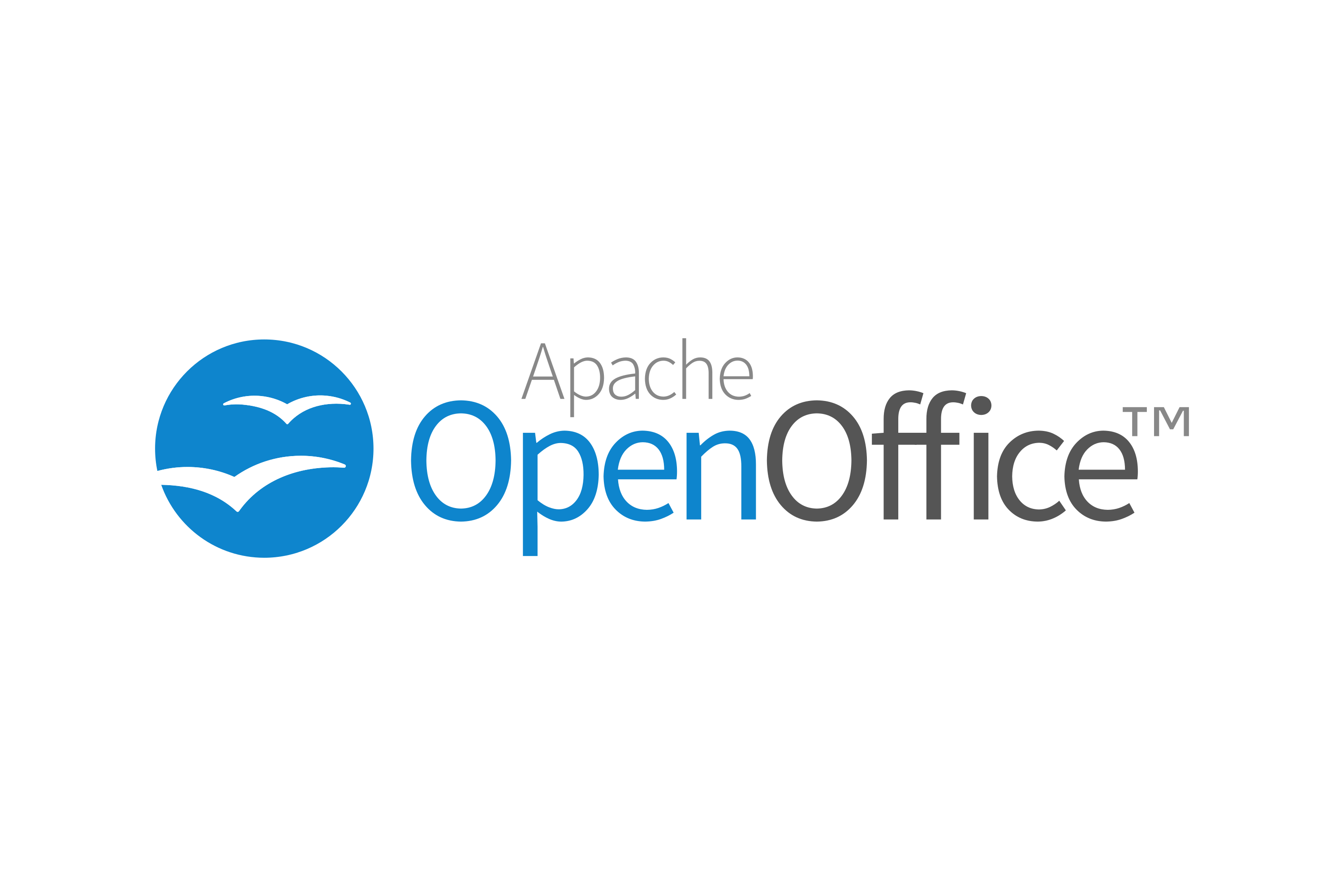 OpenOffice Writer is a program included in the OpenOffice and LibreOffice packages. She is responsible for the operation and design of text, as well as primitive tables. By default, all documents created in this program will have the format - ODT. However, the editor can handle other popular text file formats like DOCX, TXT, etc., without any problems.
A feature of this product, and indeed of this office suite's products, is a button for converting a file to PDF format. Microsoft Office products do not have such a button by default, and for it to appear, you need to install special software. Libre and OpenOffice have a special graphics program - Draw.
WriteRoom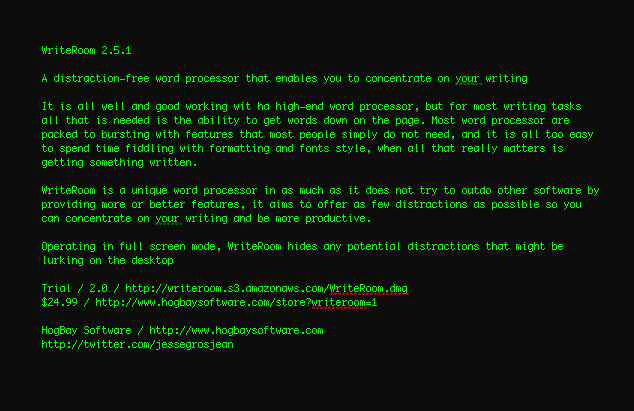 Hog Bay Software has released a new text editor, WriteRoom 1.0, aimed at users who are typing large amounts of text. The program's main highlight is the lack of all formatting tools on the screen, which, according to the authors, are distracting and unnecessary. 
This is a simple writing app that has Markdown support like the previous ones. The settings allow you to change the theme, sounds and customize the display of fonts. WriteRoom counts words and displays the time required to read the text typed in the document. Also, WriteRoom has a function to track the time spent on writing a particular paper. This data, if desired, can be exported to a table. A version for iPhone and iPad is also available. By the way, it's free.
DarkRoom
Darkroom is an easy-to-use photo editor for the pros. He has all the necessary tools and even a set of good presets, but any settings can be saved for later use. Moreover - even after saving, adjust as much as you like.
Darkroom includes cropping tools, sliders for adjusting brightness, contrast, saturation, temperature, vignetting, and sharpness, as well as adjustment curves for RGB color channels. That's enough to do wonders with photography. It is also essential that the application stores a complete history of changes to navigate through making changes.
Dropbox

This service allows you to synchronize folders between computers and other devices and use cloud storage. At the same time, the user can copy, delete, change the name of folders and files, and open them in the browser using the functionality built into the DropBox. The service supports various file formats ranging from text documents to PDF.
Dropbox is one of those modern boxes. It is designed to store information in any form to synchronize data between MAC, PC, and all kinds of mobile devices. Dropbox is straightforward to use and manage - you don't need a lot of knowledge to get started. Dropbox lets you work with a large number of folders and files at once. Dropbox can be installed on any operating system and will get along just fine between the two. For example, you have a MAC at home and an Android or iPad for travel.